¿Que se obtiene cuando se juntan reggae, rock y textos del Egipto Faraónico?


En el más puro sentido de egiptomania del siglo XXI, surge esta propuesta musical que fusiona diferentes géneros en un estilo bastante ameno y lúdico que ayuda a pasar un rato agradable en las horas de trabajo. Lo que mas me ha llamado la atención es la sinceridad de este par de músicos de San Francisco ya que no utilizan la consabida formula mercantil de "La misteriosa música del antiguo Egipto" para promocionar este tipo de material; aunque manejan un discurso medio "esotérico new age" parece que lo que buscan es crear un sonido diferente combinando distintos estilos musicales.
Considero que esta es una propuesta interesante y original que si bien dista mucho de ser "la revelación del momento" (para eso se tiene las farsas tipo American Idol o en las versiones mexicanas, La academia o Bailando por.....alguna madre) vale la pena escuchar. Se puede conseguir la información para bajar la música y "previews" de las canciones en:
http://a-centauri.costar.org/DreamArtScience/music.html
Con respecto a "La misteriosa música del antiguo Egipto" puedo mencionar que han existido, existen y existirán disqueras que buscando explotar la imagen exótica de esta civilización han producido música que en el mejor de los casos podría clasificarse como de "ambiente de supermercado o elevador". Uno de los más grandes bodrios es el disco Pharaoh: The Sound Of Mystery de la mundialmente aclamada The Mystic Sound Orchestra del año 1999. La calidad interpretativa del pianito "mi alegría" y de las pistas musicales que bien podrían ser el soundtrack de un juego de Atari 2600 logran transportarnos a la época en que las grandes pirámides de Gizeh fueron construidas al canto del mantra Omm mani pade hum.
Solo como comentario al margen; esta joya fonográfica esta incluida en mi colección de Egiptomanía. Tenia también que ser Archaeogeek no?.
Si a alguien le interesa conocer más sobre la verdadera música del antiguo Egipto pueden checar este artículo en español egiptodreams.com. También pongo la letra de la canción dedicada a Atum-Râ, el dios creador, de Dream Art Science como "preview" de la música.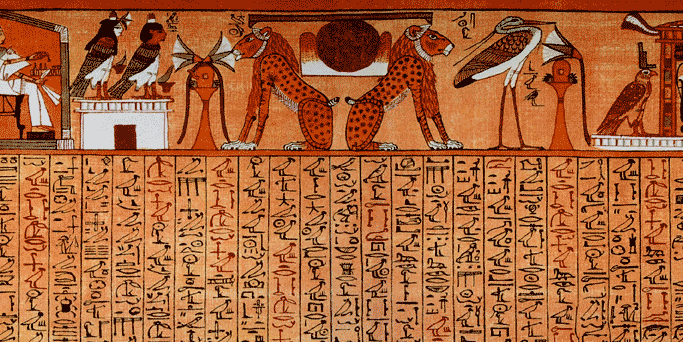 Once I had no tribe
Once I had no people
Once I was alone in the waters of Nun

And I could find no place to stand
I could find no place to stand

There was a time
When there was only ocean
There was a time
When there was only water
There was no land. There was no land.

And I could find no place to stand
I could find no place to stand
Stand, stand, I will stand
Stand, stand, I will stand

Once I lived in solitude
In the company of the uncreated
Once I was alone in the waters of Nun

And I could find no place to stand
I could find no place to stand
Stand, stand, I will stand
Stand, stand, I will stand

Once I had no tribe
Once I had no people
Once I had no tribe